STUDY MBA AT USM, YOU ARE ON YOUR WAY TO GLASGOW
STUDY MBA AT USM, YOU ARE ON YOUR WAY TO GLASGOW

Prospective students applying to continue their education at the Universiti Sains Malaysia (USM) Graduate School of Business (GSB) would now have the opportunity to enrol in the Double Degree Programme with the Adam Smith Business School at the University of Glasgow (UoG), United Kingdom.
The programme which would commence in September has selected six students to be in the first batch, with the scholarships awarded from UoG valued at GBP10,000.00 or RM55,000.00 each, and places are still available to those who are interested in joining.
"The scholarship totalling GBP150,000 or RM825,000 is offered by UoG for the MBA-MSc Euro-Asian Double Degree Programme," said UoG Vice-Principal (Academic & Educational Innovation), Professor Frank Coton.
The students will be studying for a year at GSB and another year at UoG, and upon completion of their studies, will be receiving two degrees.
"The collaboration today focuses on training the next generation of business leaders to become responsible and effective, and understand the challenges of working in a global environment and who recognise the importance of sustaining such environment," said the UoG Vice-Principal, Academic and Educational Innovation, Professor Frank Coton.
"This collaboration is important as currently, we would only connect and create partnerships that we value and can make a difference to society, and in recent years, we have reduced the number of global partners," he added.
"These two Memorandums of Agreement (MoA) will be the means for us to work more closely together, and which would allow us to reach our common goal of internationalising education," said the Vice-Chancellor of Universiti Sains Malaysia (USM), Professor Datuk Dr. Asma Ismail during the MoA signing ceremony, simultaneously between USM with UoG and also USM with Institut Teknologi Bandung (ITB), Indonesia.
"I am confident that through our efforts and commitment, we will be able to achieve more and to be able to continue developing even stronger relationships and friendship between our institutions," she added.
"Maybe one day, we will grab the opportunity to expand our collaborations with (partners from) more than two cities and would benefit from that, such as between Penang-Bandung-Glasgow," she said.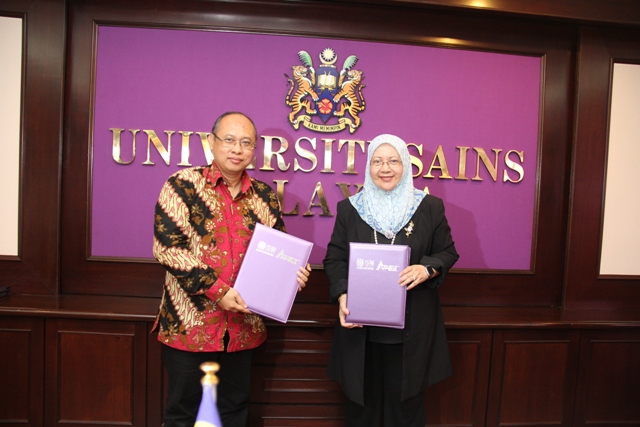 Meanwhile, the Vice-Dean, School of Business and Management ITB, Professor Dr. Ir. Utomo Sarjono Putro said that, by offering the programme, they hope that they could assist the business players to comprehend more on doing business at the ASEAN level.
"The programme to be offered by USM and ITB is the Dual-Degree ASEAN MBA, where students would be studying at the School of Business Management in ITB and also engage in online learning with the lecturers at GSB-USM in Penang," said Utomo Sarjono.
"The ASEAN community provides many opportunities and objectives, such as economic growth and that is where a business school may contribute towards achieving that goal," he added.
Also present were the Dean of GSB, Professor Dr. Azlan Amran; USM Ombudsman,  Professor Dato' Seri Dr. Md. Salleh Yaapar and the Director of USM International Mobility and Collaboration Centre (IMCC), Dr. Muhizam Mustafa.
Text: Nor Rafizah Md Zain / Photos: Mohd Fairus Md Isa